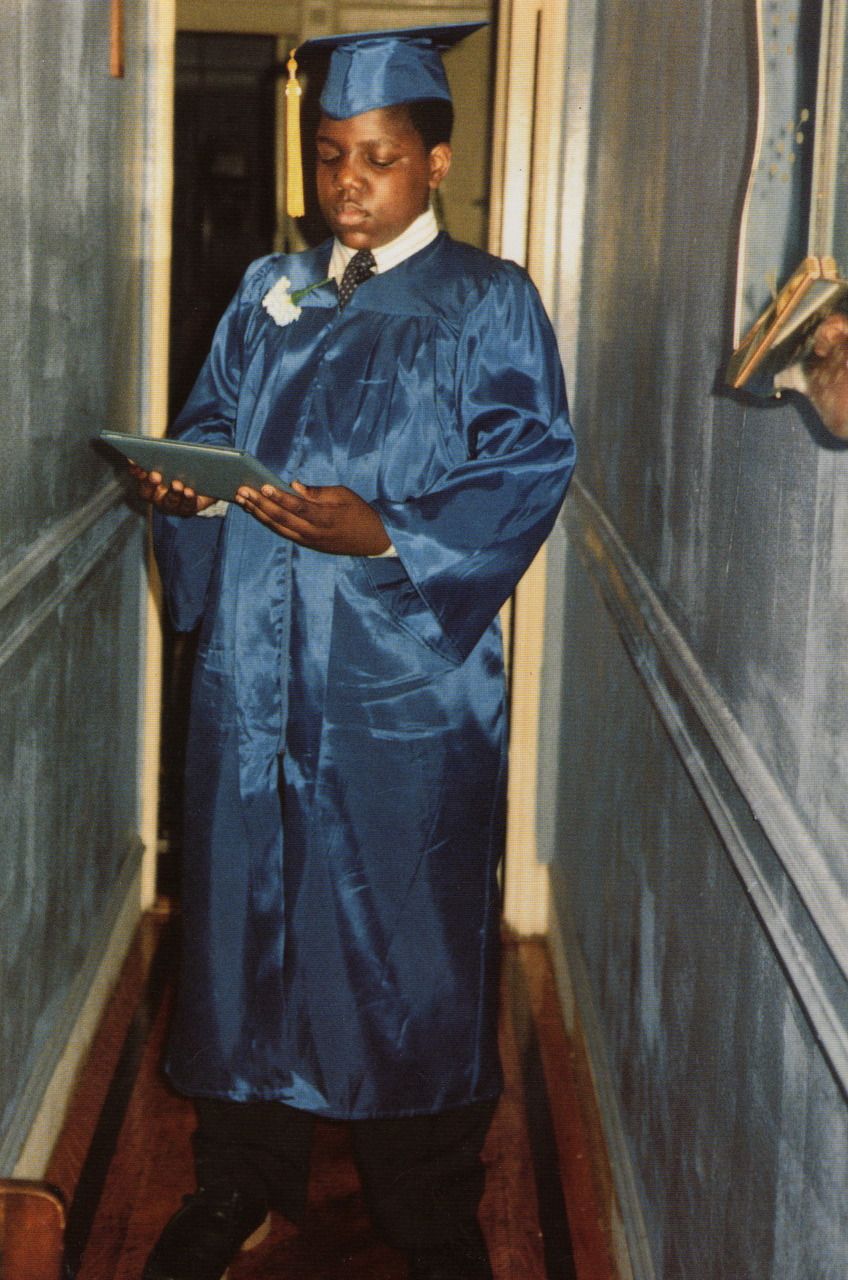 Real name Christopher George Latore Wallace, Notorious B.I.G. was born on May 21, 1972 at St. Mary's Hospital in New York. He is the first and only son of Jamaican professor Voletta Wallace and Jamaican politician Selwyn George Latore6,7. When Christopher is two years old, his father leaves the family home. Her mother then held two jobs to support her son. Wallace grew up at 226 St. James Place in Clinton Hill, a neighborhood in the borough of Brooklyn. A studious young child, Wallace is one of the best students in his Middle School class and wins several awards in English. Overweight, He is nicknamed "Big" from the age of 10 years. He explains that he started selling drugs when he was 12 years old. His mother, often absent from work, will find out after Wallace reaches adulthood.
At his request, Wallace is transferred from Catholic Bishop Loughlin Memorial High School to George Westinghouse Career and Technical Education High School, where future DMX rappers, Jay-Z and Busta Rhymes, were already. According to his mother, Wallace was an exemplary student, but he changed after his transfer to this new establishment. At 17, Wallace dropped out of school and became involved in crime. In 1989, he was apprehended for carrying an illegal weapon in Brooklyn, then again in 1990. A year later, Wallace was apprehended in North Carolina for selling crack. He will spend nine months in prison.
Wallace embarks on rap as a teenager. He entertains passers-by on the street and is a member of local small groups The Old Gold Brothers and The Techniques. Released from prison, Wallace composes a demo under the name of Biggie Smalls, inspired by a character from the 1975 film Let's Do It Again with Bill Cosby and Sidney Poitier, and because of his stature; it measured 1.91 m for a weight between 140 and 170 kg according to several accounts. The demo is composed for pleasure, without serious intention, but it is spotted by the New York disc jockey Mister Cee, collaborator of Big Daddy Kane. In March 1992, Wallace was listed in the Unsigned Hype column of The Source magazine, dedicated to aspiring rappers, and then composed another title. The demo is listened to by A&R and Uptown Records producer Sean Combs, who arranges to meet Wallace. He was immediately signed with Uptown and participated in the title A Buncha Niggas of Heavy D & the Boyz (from the album Blue Funk). Shortly after signing the contract, Combs was fired from Uptown and launched a new label. Wallace signed to Combs' new label Bad Boy Records in 1992.
On August 8, 1993, Wallace's partner gave birth to her first child, T'yanna. Wallace separated for some time from his partner after the birth of T'yanna. He resumes selling drugs to support his daughter. After learning of this, Combs forces Wallace to resign. Later, in the same year, Wallace became even more popular thanks to a remix of the single Real Love by Mary J. Blige, under the name of The Notorious B.I.G. He continued to compose under this name until the end of his career, after discovering that the name "Biggie Smalls" was already used. Real Love reaches 7th place on the Billboard Hot 100 and is followed by a remix of the title What's the 411? of Blige. He continued his momentum with remixes for Neneh Cherry (Buddy X) and Super Cat (Dolly My Baby, also featuring with Combs) in 1993. In April 1993, his first solo title, Party and Bullshit, appeared in the band film original Who's the Man? In July 1994, he participated, alongside LL Cool J and Busta Rhymes, in a remix of the title Flava in Ya Ear by Craig Mack, which reached 9th place in the Hot 100.

On August 4, 1994, Wallace married RnB singer Faith Evans. Four days later, Wallace reached 27th place in the musical rankings as a solo musician thanks to his title Juicy / Unbelievable, main single from his first album.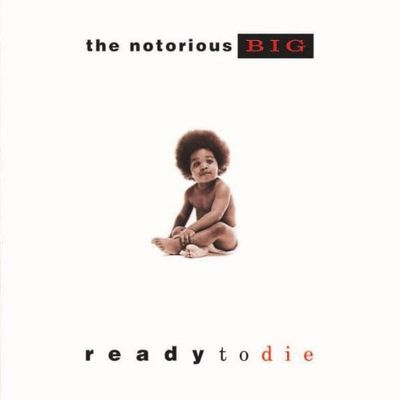 Ready to Die was published on September 13, 1994. It reached 13th place on the Billboard 200, and was certified quadruple platinum by the RIAA. The album, released at a time when West Coast rap dominated the hip hop scene, according to Rolling Stone, "suddenly blasted public interest in East Coast rap again. He is praised by the trade press. Besides Juicy, the album contains two other hit singles: Big Poppa, certified platinum record and first in the rankings, and One More Chance featuring with Faith Evans. Busta Rhymes says she saw Wallace distribute free copies of Ready to Die, which he sees as "his way of promoting himself."
During this period, Wallace became friends with rapper Tupac Shakur. His cousin Lil 'Cease confides that they were close, and traveled together whether for their tour or for something else. According to him, Wallace was frequently invited to Shakur's and spent time with California or Washington, D.C. Yukmouth, a rapper from Oakland, explains that Wallace's style was inspired by that of Shakur. Wallace also befriends Shaquille O'Neal. O'Neal had heard Wallace sing his title Gimme the Loot for the first time, in which he quotes him. O'Neal asked to collaborate with Wallace, resulting in the title You Can't Stop the Reign. Sean Combs says Wallace never worked with "someone he didn't really respect. "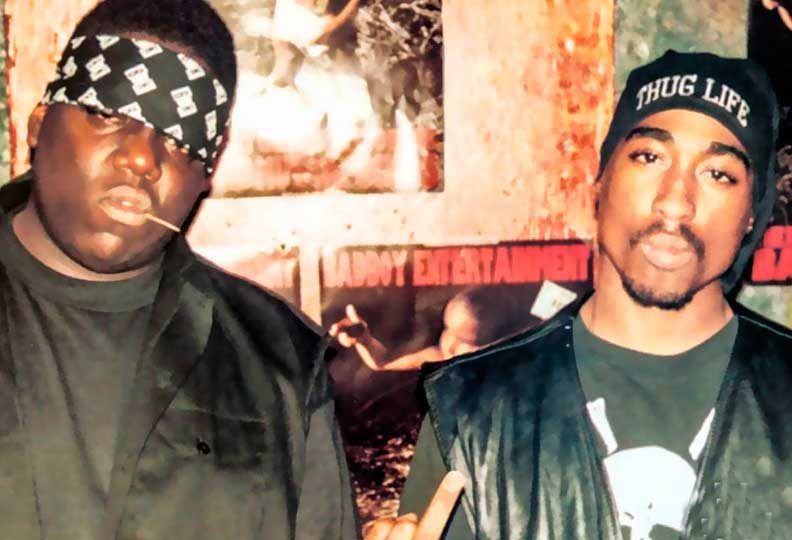 Daz Dillinger explains in 2015 that his relationship with Wallace was "nice". Wallace moved to see him, and Dillinger offered him grass and recorded two songs by his side.
In August 1995, Wallace's protected group, Junior M.A.F.I.A. (Junior Masters At Finding Intelligent Attitudes), released their first album, Conspiracy. The group is made up of childhood friends and involves rappers like Lil 'Kim and Lil' Cease, who will continue their solo careers. The album is certified gold disc by the RIAA, and the singles Player's Anthem and Get Money featuring with Wallace, are respectively certified gold disc and platinum. Wallace continues to collaborate with RnB groups like 112 (on Only You) and Total (on Can't You See), who reach the top 20 of the Hot 100. At the end of the year, Wallace becomes the rapper and solo artist the highest paid in the US pop and rap rankings. In July 1995, he appeared on the cover of The Source magazine with the legend The King of New York Takes Over, in reference to his nickname Frank White from the film King of New York. At the Source Awards in August 1995, he was named in the categories of best artist (solo), lyricist of the year, live musician of the year, and his first album was named in the category of best first album of the year. . At the Billboard Awards, he becomes musician of the year.
As he reaches his peak in popularity, Wallace becomes involved in a rivalry between East Coast and West Coast rap with Shakur, now his ex-friend. In an interview with Vibe in April 1995, Shakur accuses the founder of the label Uptown Records Andre Harrell, Sean Combs, and Wallace of having stolen from him for thousands of dollars of jewelry, and of having shot him five times on the night of November 30 1994. Wallace and his entourage deny his accusations explaining that they were in a recording studio in Manhattan at the same time. In 2012, a man named Dexter Isaac, imprisoned for other acts, explains that he assaulted Shakur that night and that this theft was organized by James Rosemond alias Jimmy Henchman. Released from prison, Shakur signed to the Death Row Records label on October 15, 1995. Bad Boy Records and Death Row, now rivals, became involved in a fierce quarrel.
Wallace embarked on the recording of a second album in September 1995. The album, recorded in New York, Trinidad, and Los Angeles, was interrupted at its 18th month due to injuries, legal problems and rivalry in which he is involved with. During this period, he worked alongside singer and pop / RnB producer Michael Jackson on the album HIStory. Lil 'Cease explains in 2013 that Wallace was initially not willing to meet Jackson, because of "this story with children. "
On March 23, 1996, Wallace was arrested outside the entrance to a nightclub in Manhattan for threatening two fans, beating one of them, and smashing the windows of their taxi. He pleads guilty to second degree assault and is sentenced to serve 100 hours of community service. In 1996, he was arrested outside his home in Teaneck, New Jersey, for possession of illegal weapons and narcotics. In June 1996, Shakur publishes Hit 'Em Up, a diss song in which he declares to have had a sexual relation with the wife of Wallace (at the time his ex-partner) and that Wallace had copied his style and his image. Wallace first quotes Jay-Z's title Brooklyn's Finest in which he says: "If Faye (Faith Evans, her partner at the time) has twins, she would surely have two Pacs. Pigeon? 2Pac's? However, Wallace will not respond directly to these insults, explaining in a radio interview in 1997 that it is "not his style" to respond.

Shakur was the subject of a drive-by shooting in Las Vegas, Nevada, on September 7, 1996, and died of his injuries six days later on September 13, 1996. Rumors immediately circulated that Wallace was implicated in his assassination. Chuck Philips of the Los Angeles Times wrote in 2002 Who Killed Tupac Shakur ?, an article from police reports and other comprehensive sources reporting that "the crime was committed by a Compton gang called the Southside Crips to avenge one of their members assaulted by Shakur a few hours earlier, "and that Wallace would have paid to arm them. His family firmly denied this article and later proved that Wallace was indeed in New York and New Jersey at the time of the crime. The New York Times considers that documents provided by the family prove the rapper's innocence: "The pages provided indicate that Wallace was in the studio recording a song called Nasty Boy during the night Shakur was killed. Faith Evans explains that her husband called her, shocked, the night of Shakur's murder. Evans adds, "I think he too feared for his life, after all that was going on at the time. Wayne Barrow, one of Wallace's managers at the time, concluded that the rapper was recording Nasty Girl the night Shakur was killed.
On October 29, 1996, Faith Evans gave birth to Wallace's son, Christopher Wallace Jr. The following month, the member of the Junior M.A.F.I.A. Lil 'Kim releases her first album, Hard Core, under the direction of Wallace. Lil 'Kim quotes Wallace as her "biggest fan" and that she was "her pride and joy". In 2012, Lil 'Kim explains that Wallace had prevented him from composing a remix of Jodeci's single Love U 4 Life by locking him up in his bedroom; according to her, Wallace would have told her that she "will not do anything with them. "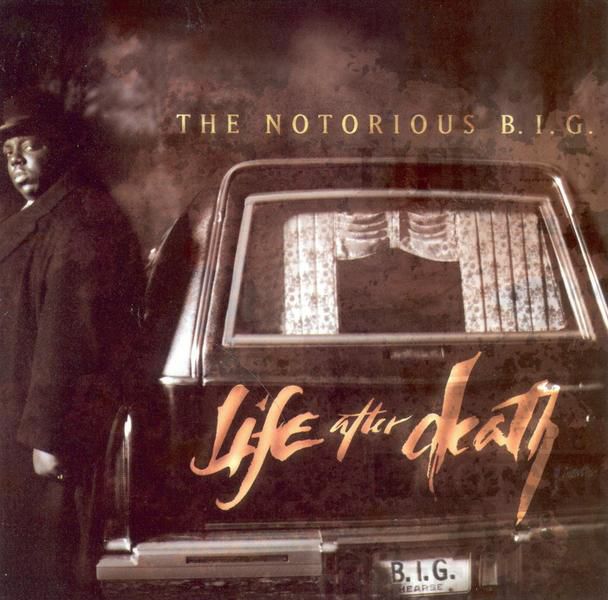 During the recording of the second album, originally titled Life After Death ... 'Til Death Do Us Part, later abbreviated for Life After Death, Wallace was involved in a car accident that injured his left leg and forced him to temporarily move in a wheelchair 3. He moved using a cane. He and Lil 'Cease are arrested for smoking marijuana in a public place and their car is loaded. Wallace rents a Chevrolet Lumina despite complaints from Lil 'Cease. Before the accident, the car had brake problems, but Wallace did not care. Wallace stays in hospital for a few months after the accident and takes rehabilitation courses. Despite this hospitalization, he continues to work on the album. The accident is cited in the lyrics to the title Long Kiss Goodnight: Ya still tickle me, I used to be as strong as Ripple be / Til Lil 'Cease crippled me.
In January 1997, Wallace is forced to pay $ 41,000 in damages following an incident involving the friend of a concert promoter who accuses him and his entourage of beating him after a quarrel in May 1995. After all these events, Wallace expressed his desire to want to "change the air. "My mother ... my son ... my daughter ... my family ... my friends are all that matters to me now." "
In February 1997, Christopher Wallace left for Los Angeles to promote his second album and the video clip of his title Hypnotize. The release of the album Life After Death is scheduled for March 25, 1997. On the evening of March 8, 1997, he attended the Soul Train Music Awards ceremony, during which he presented an award to Toni Braxton. On hostile ground, he is booed by a part of the public when he goes up on stage then joins without enthusiasm, for Puff Daddy, in an evening organized by the magazine Vibe at the Petersen Automotive Museum. Accompanied by Lil 'Cease (member of Junior M.A.F.I.A) and Combs, he leaves around 12:30 am to return to his hotel. B.I.G. sits in the front passenger seat of a first 4x4 with Lil 'Cease, while Puff Daddy rides in the second accompanied by several bodyguards. At 12:45 am on March 9, 1997, the car stopped at a red light after driving fifty meters. A Chevrolet Impala comes to a stop on the right of the Chevrolet Suburban. The driver lowered the window and fired five shots, four of which hit the rapper in the chest. Urgently transported by his relatives to the Cedars-Sinai medical center, he was declared dead at 1.15 am The murder of Notorious B.I.G. produces a considerable shock wave in the country, especially since it directly echoes that of Tupac Shakur, murdered six months earlier in similar circumstances.

For The Harvard Crimson, the assassination of Biggie is an indicator of the culture of hip-hop which is too often obsessed with useless violence and murder without motives.
The autopsy of Notorious B.I.G. was revealed to the public more than a decade after his death in December 2012. According to the report, three of the shots were not fatal. One of the bullets hit Biggie in the forearm and went into his wrist. Another projectile entered the back and emerged from the left shoulder without touching any vital organ. A third shot pierced the left thigh right through, emerging from its inner side. As for the deadly bullet, it entered through the right side of the rapper's hip, it would have punctured the colon, liver, heart and upper lobe of the left lung, finally immobilizing in the shoulder.
Christopher Wallace's funeral is being held in the Upper East Side district of Manhattan. The ceremony, private, welcomes 350 handpicked guests including artists Queen Latifah, Mary J. Blige, Flavor Flav, Sister Souljah, members of the Fugees, Salt-N-Pepa and Junior MAFIA. and in a white suit, the remains of Christopher Wallace are in a large open mahogany coffin. Sean Combs delivers the eulogy and Voletta Wallace reads passages from the Bible. The procession then moves to the neighborhood of Brooklyn where many residents have gathered down the streets to pay tribute to the artist with memorials made of images and CDs of the star as well as candles.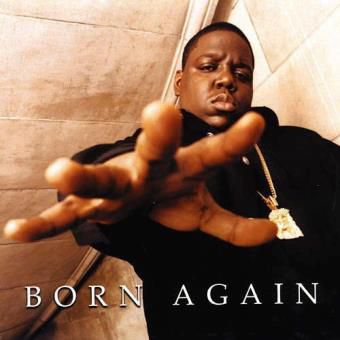 In the days after Biggie Small's death, veteran clan wars rapper Ice-T said on New York radio station Hot 97 that he was scared for the first time in his life. Death Row rapper Snoop Doggy Dogg cancels several dates on his tour, and Nas is advised not to travel to the West Coast of the United States.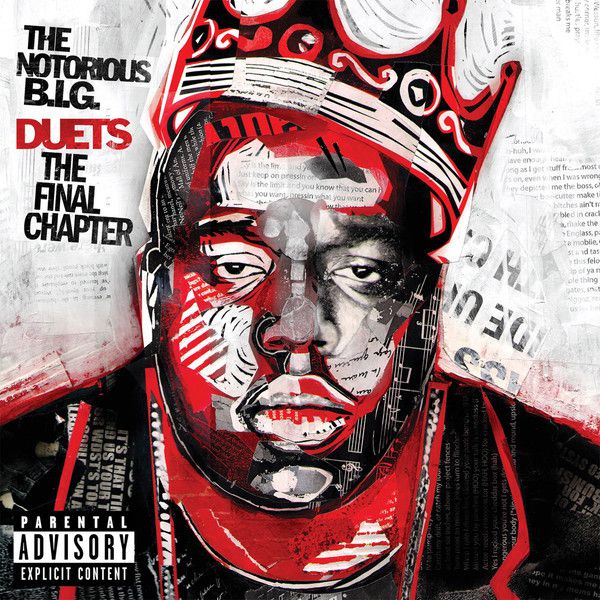 In 2006, almost 10 years after his death, MTV designated The Notorious B.I.G. as the third biggest rapper in history behind Jay-Z and Tupac Shakur. For Pusha T, he is the "greatest rapper who has ever lived" Cit 1. Although having only released two real albums, including a posthumous one, the Brooklyn MC has nevertheless become one of the greatest of it 'history. This apparent paradox is explained by the evolution of American hip-hop during 1981 and the advent of N.W.A., largely dictated by Californian rap. Not only Ready to Die is unanimously praised by critics at a time when productions on the East Coast are rather moribund. Besides Juicy, the album contains two other hit singles: Big Poppa, certified platinum record and first in the rankings, but the phenomenal success of the singles Juicy, Big Poppa and One More Chance practically laid the foundations for a rap market. - Yorker. Young talents like Nas and Mobb Deep soon joined him, but their impact was not as great as that of Biggie. Allmusic considers that Notorious B.I.G. is the "savior of East Coast rap".
The success is not only artistic but also commercial, the first album of B.I.G. sells more than four million copies. The rivalry between East Coast and West Coast concluded by his assassination added to the artist's myth and posterity. Aware of the notoriety that B.I.G. acquired at his death, the label Bad Boy Records and Puff Daddy strive to benefit from it. A few months after his assassination, B.I.G. appears in featuring on five tracks from Daddy No Way Out's solo album. The label decides in 1999 and 2005 to produce several titles by sticking old unused verses of Biggie Smalls with improvised featurings for the occasion. The albums were warmly received by critics but were commercial successes: double-platinum for Born Again and platinum for Duets: The Final Chapter. All in all, rather bastard, the titles Dead Wrong, If I should Die before I wake, Rap Phenomenom, Biggie, Nasty Girl, 1970 Somethin ', Hustler's Story and Living in Pain emerge. In 2007, the label released a compilation of the rapper's best tracks. Two years later, the biographical film Notorious BIG produced notably by Puff Daddy, was a commercial success which received a mixed reception of critics.

More than ten years after his death, beyond the publicity generated by the two albums marketed from old verses he had recorded, the figure of Biggie Smalls is still particularly popular; all the more so since the rapid expansion of the rap market has engendered a natural tendency to pay homage to the "pioneers". After his death, his sounds and music were taken up by many contemporaries such as Jay-Z, 50 Cent, Nas, Fat Joe, Nelly, Pharrell Williams, Lil 'Wayne, Ludacris, Big Pun, Beanie Sigel, Jadakiss, Juelz Santana, Usher , Ashanti, Alicia Keys or Nelly Furtado. He also launched and greatly influenced Lil 'Kim, rapper with whom he had a fusional and stormy relationship.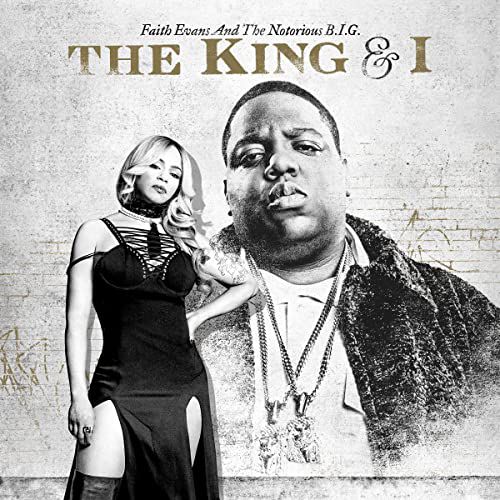 His influence goes beyond the musical world. His clothing style launched fashions and influenced trends; the picture with a crown on the head is historic, B.I.G. wears Versace shirts and is one of the first to wear BAPE clothing. In the 2016-2017 NBA season, twenty years after the rapper's death, the Brooklyn Nets franchise removes the No. 72 flocked jersey, related to Wallace's birth date, during a special evening dedicated to the Brooklyn artist. A banner hangs in the Barclays Center above the floor of the Nets room. In 2017, twenty years after the death of Notorious B.I.G., politician Hakeem Jeffries paid tribute to him in the gallery of the House of Representatives of the United States.